Monthly Lesson Series:
Swing 1B: 8-Count Swing Basics
This 4 week progressive series will introduce the basics of 8-count swing (Lindy Hop). You'll learn the signature moves including the swing out, the lindy circle, and the send out. We'll get you started moving like a Lindy Hopper at a comfortable social dancing tempo. You'll need this class and Swing 1A to continue to the Swing 2 classes. The Swing 1A class on six-count lindy hop is a pre-requisite for this class. No partner required.
You can preview the class material here:
Intermediate/Advanced Guided Practice
Time: Thursdays  8-8:30 (Same time as Intro Lesson)
Location: Basement of Polish Home
These lessons are intended to be for intermediate dancers looking for additional material and practice. We guarantee that the material will be challenging such that it will take additional social dance practice to master. We want people to sign up in blocks, because practice only helps if it's regular, and we want to reward folks who place value in working on their dancing regularly.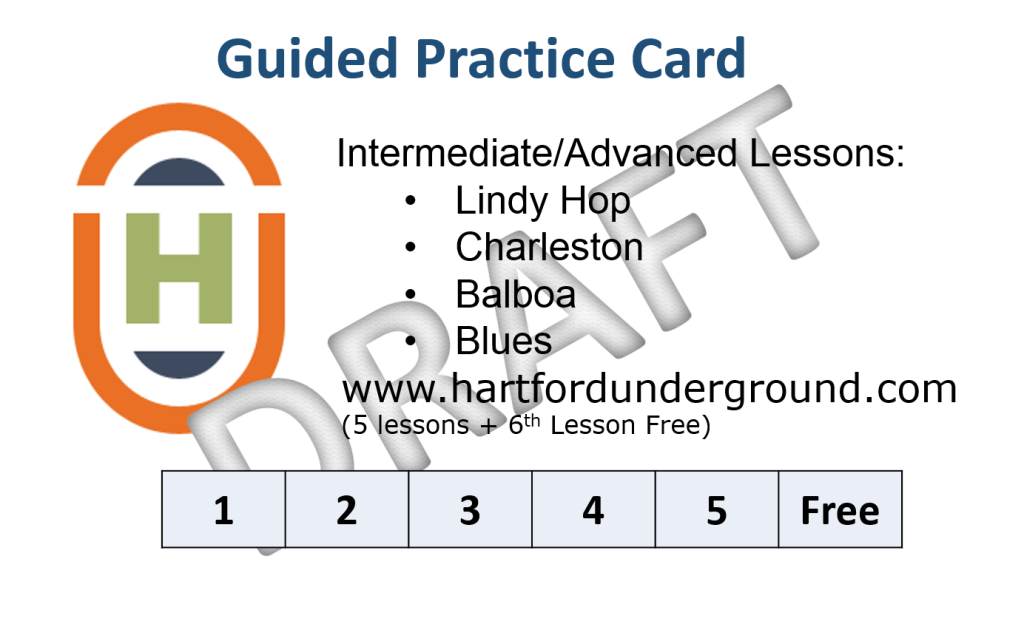 Cost: $25 Lesson  Card ( 5-lessons+1* Free lesson) or $5 per lesson
* only with the Practice Card
Note: practice cost is in addition to the $5 dance admission per evening.
Social Dances
Come on out for great evenings of dancing at the Polish National Home. We have a gorgeous 1930s Art Deco Ballroom to dance in. If you're new to swing dancing we encourage you to take our 30 minute introductory lesson at 8pm. After that, join us for an evening of great music and fun in a low-pressure friendly atmosphere.
What to expect: http://hartfordunderground.com/about/faq/
We encourage you to purchase a monthly pre-registration ticket in advanced and get the benefit of a discounted price.
Order Here: