Moonshine Rhythm Club:
Moonshine Rhythm Club brings old-school swing and jazz to life with joyful arrangements and energetic playing that makes this vintage music sound like it was written this morning. The boys seek out deep cuts from the 30s and 40s, take their favorite parts from classic big band recordings, and distill them into their signature sound. That sound draws on the guitar-driven, acoustic fire of gypsy jazz, as well as the slow burn and laid-back groove of later artists like Count Basie and Nat "King" Cole. On top of this lays classy and hip vocals with a lighthearted humor.
Take a look at some of their work!

Monthly Lesson Series:
Six-Count Flash and Trash with Javier Reyes Johnson
The only prerequisite for this course is knowing our basic six count steps of swing dancing – rock step, triple step, triple step. If you've taken our free drop-in beginner lessons then you're good to go!
This month, Javier will be teaching flashy six-count moves to advance your dance repertoire. While we usually focus on understanding the mechanics of the basic movements, in this class series we'll be throwing a bunch of new and interesting movements at you. From the 1,625.2 ways of getting from closed into open to the 42.7 ways of doing a tuck turn, we're going to fill in the missing chapters of your six-count Lindy Hop. The only prerequisite is to know the basic six-count step.
Intermediate/Advanced Guided Practice
Time: Thursdays 8:00 PM – 8:30 PM (Same time as Intro Lesson)
Location: Basement of Polish National Home
For those of you who have consistently worked on your beginner fundamentals of Lindy Hop, we offer a guided practice session every Thursday from 8:00 PM – 8:30 PM (same time as our beginner lesson) in the basement of the Polish National Home.
These lessons are intended to be for intermediate dancers looking for additional material and practice. We guarantee that the material will be challenging such that it will take additional social dance practice to master. We want people to sign up in blocks, because practice only helps if it's regular, and we want to reward folks who place value in working on their dancing regularly.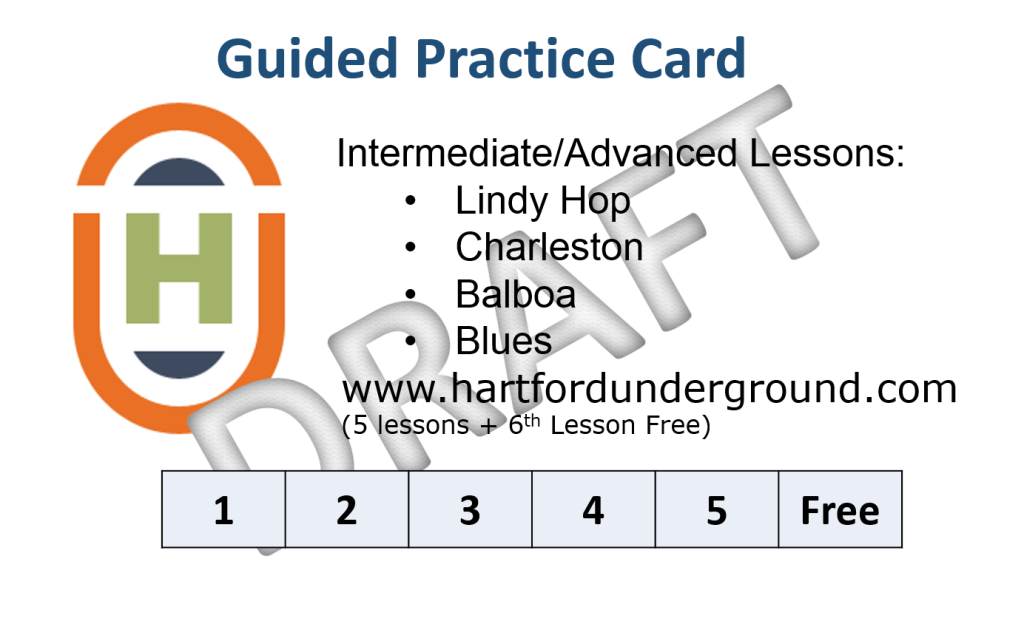 Cost: $25 Lesson Card (5-lessons+1* FREE lesson) or $5 per lesson
* only with the Practice Card
Note: practice cost is in addition to the $5 dance admission per evening.
Social Dances
Come on out for great evenings of dancing. If you're new to swing dancing we encourage you to take our 30 minute introductory lesson at 8:00 PM. After that, join us for an evening of great music and fun in a low-pressure friendly atmosphere.
What to expect: http://hartfordunderground.com/about/faq/
We encourage you to purchase a monthly pre-registration ticket in advanced and get the benefit of a discounted price.
Order Here: