Monthly Lesson Series:
Balboa 1 Introduction
This 4 week progressive series will introduce Balboa basics. Balboa is known as "a dancer's dance," focusing on musicality, connection, and feeling. Watch this video to see Balboa in action. You'll learn the single time basic, send-out (toss-out), and Lollies. This class will build solid Balboa fundamentals. No prior Balboa knowledge necessary. As always no partner required.
Intermediate/Advanced Guided Practice
Time: Thursdays 8:00 PM – 8:30 PM (Same time as Intro Lesson)
Location: Basement of Polish National Home
These lessons are intended to be for intermediate dancers looking for additional material and practice. We guarantee that the material will be challenging such that it will take additional social dance practice to master.
Just like your favorite coffee shop, we've introduced a Guided Practice rewards card to reward our dancers who come most often, because practice only helps when it is frequent and regular! Get your free Guided Practice Rewards Card with your first purchase of a Guided Practice, get your card stamped or punched by our instructors at each session, and after five lessons your sixth session AND the social dancing of the evening will be 100% free! Enjoy the rewards of a commitment to your dancing!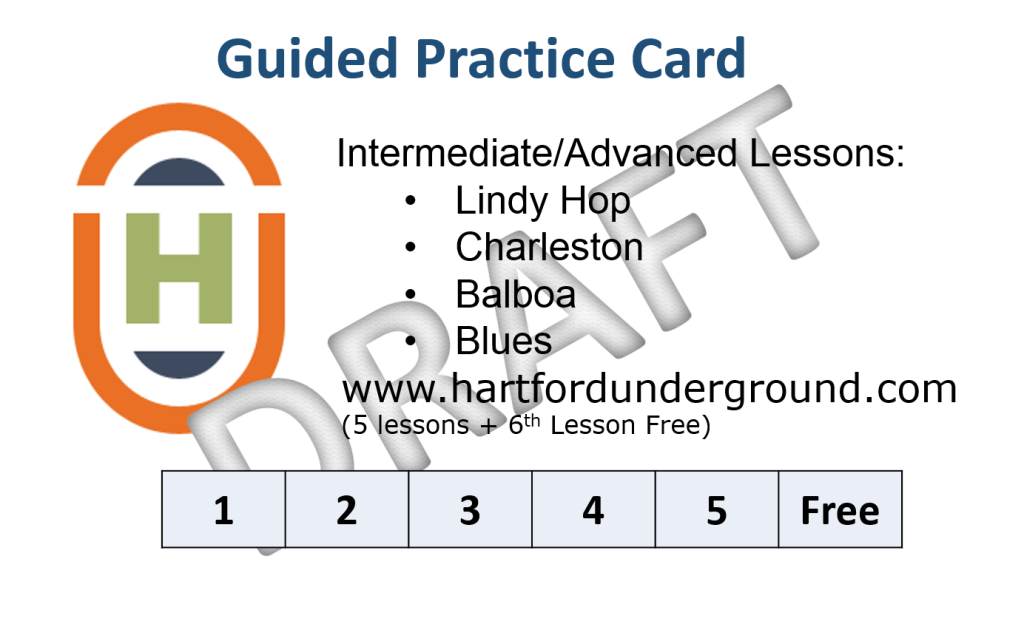 Cost: $25 Lesson Card (5-lessons+1* FREE lesson) or $5 per lesson
* only with the Practice Card
Note: practice cost is in addition to the $5 dance admission per evening.
Social Dances
Come on out for great evenings of dancing. If you're new to swing dancing we encourage you to take our 30 minute introductory lesson at 8:00 PM. After that, join us for an evening of great music and fun in a low-pressure friendly atmosphere.
What to expect: http://hartfordunderground.com/about/faq/
We encourage you to purchase a monthly pre-registration ticket in advanced and get the benefit of a discounted price.
Order Here: